Soothing blend to release tension in the head
Migraine Go Roll On is an Ayurvedic blend of niaouli, peppermint, eucalyptus, rosemary and other such soothing essential oils, in a base of jojoba oil. Rosemary has pain-relieving properties that help improve blood circulation whereas menthol has shown to be effective in reducing migraine headaches in clinical trials.

- 0%
Sale price
₹390.00
Regular price
₹390.00
Unit price
per
Sold out
View full details
Collapsible content
How to use

Gently apply on the forehead and temples. After applying the roll on, take a 2 minute break from screens. Massage the forehead with your hands before applying, this will allow for better absorption.
Product Information

Tired of these constant migraines? Get ready to say goodbye to headaches with migraine go roll-on. Its has minty aroma and helps relieve headaches and migraines. Perfect for mild to moderate headaches. For severe migraines it can help reduce the intensity when applied early.

It is light, portable, and travel-friendly for you to carry with you, everywhere you go. It has a rollerball applicator, making it extremely easy to apply.
Ingredients

Lavender, Niaouli, Rosemary, Eucalyptus, Wintergreen, Peppermint essential oils and cold pressed Jojoba Oil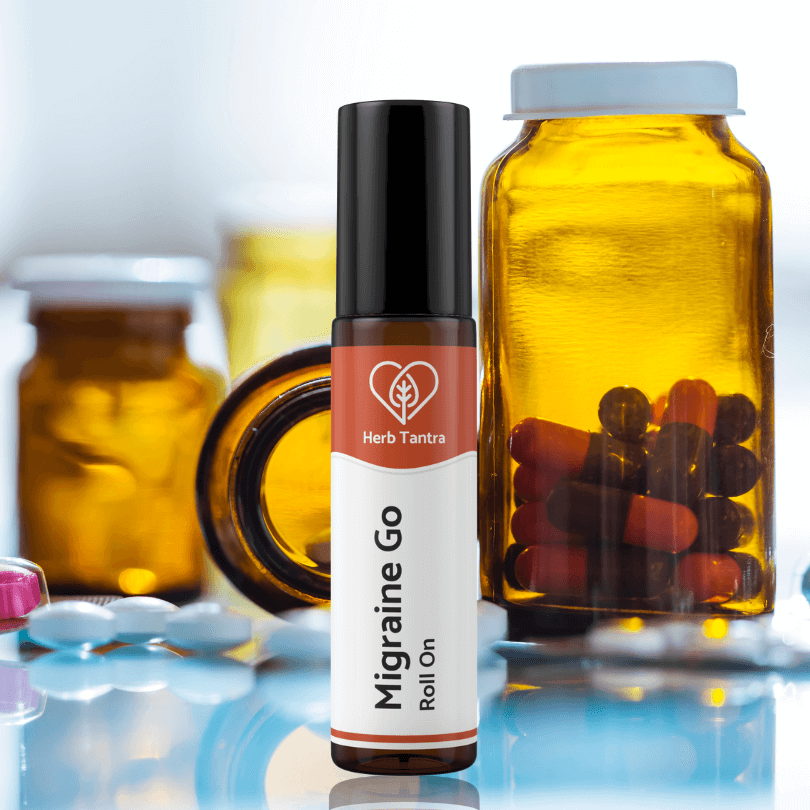 Step 1 to wellness
Do you remember the time when most of our treatments started from our kitchens? But our fast paced lives have led us to injudicious consumption of pain killers and other OTC drugs for smallest discomforts. With our products we're making it easier to adopt natural remedies as the first step towards wellness.
Frequently Bought Bundles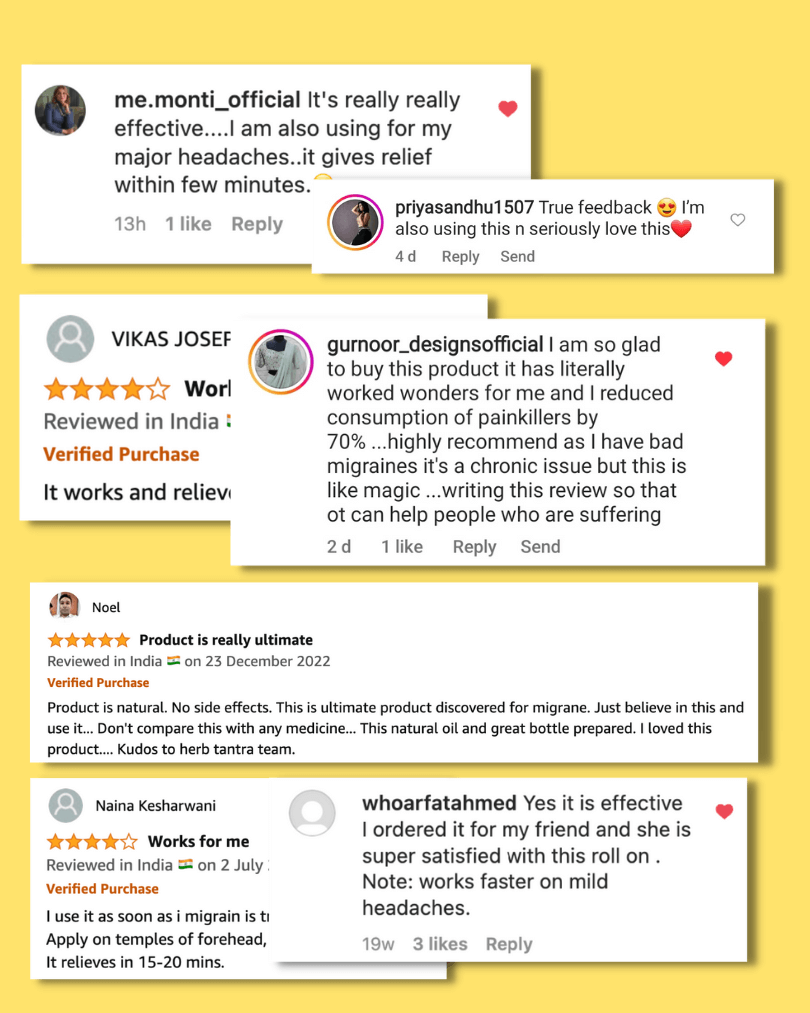 1,00,000+ lives touched
We have served more than 1lac customers and helped them choose Plants Before Pills. Most of them have seen noticable results and now use our products as first line of action. This has enabled them to cut down on self medications with pills.
Know More About Us
What else can we help you with?
Answers to your most common questions.
When and how many times can I apply this roll on ?

Every time you need relief you should apply the roll on. You can apply it as often as you need it.
Does it have any side effects?

This roll on is 100% natural and safe. Use it as often as you need. There are no known side effects, when it's used according to the instructions for use.
Could I be allergic to it ?

Allergies to its ingredients (all of which are listed above) are rare. If you have doubts, do a patch test. When an itching red spot appears we advise you not to use it.
Are there any other precautions I should take ?

Do not use without your physicians consultation if you're pregnant or undergoing any treatment. Do not let other people use the roll on to avoid cross contamination. Do not use after expiry date.
Is this product returnable ?

Due to health and wellness nature of this product it's not returnable.
Highly recommended
I've been using migraine go from last 2 years.. i was suffering from severe migraine attacks and tried so many medications, even my dr had started blood pressure medicines to control my migraine but and one day i saw this ad on Instagram, thought why don't give it a try. I'm thankful that i tried it and must say this roll on gave me so relief and the fragrance works wonder. It soothes my pain and i feel relieved. At start i felt it works lately but later realized that my migrain attacks were very powerful. Now i hardly got headaches and migrain attacks. Thank you so much
Very effective oil..highly recommendable
This is really effective..i ordered it for my husbnd .. he was suffering from migrane and used to consume too many medications but after using this, his medication reduced for about 70%.. this oil is really really effective
Not super effective
Don't rely much on positive comments . Though it smells to be herbal but doesn't gives instant relief as needed in severe migraine pain !!
Not happy
Not as good as they claim